With the Titan Precast Management System, Terre Hill's team works from one information source, rather than multiple versions of data.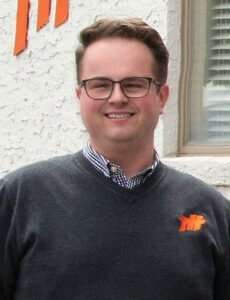 One of just a handful of precast concrete companies that can trace its roots back 100 years, Terre Hill Concrete Products evolved alongside the industry, adding new products, better technology, more automation and multiple locations through the years. Located in Terre Hill, Pa., about an hour west of Philadelphia, by 2005 the company was running in several directions, and so were the data systems for accounting, sales, production and dispatching.
It was time to get everybody on the same page. That's when Terre Hill Concrete Products made the move to the Titan Precast Management System, according to Joshua Martin. A fourth-generation family member, Martin is the director of business improvement and the company's point person for IT and all things Titan.
Managing Entire Process
"We use it today to manage our entire quoting process, production, order tracking. It handles our customer invoicing, our general ledger, accounts payable," he said. "Prior to Titan, every department and every office had their own filing system, their own paper files. What I would say is that they had their own version of the truth. So, we were not just duplicating work, we were sometimes triplicating work or more, just starting from scratch – taking a quote and starting all over to make it a shop drawing, and then starting all over to make it a delivery ticket. Starting all over to make it an invoice."
Titan changed all that with its comprehensive data management of every process at the plant. "The biggest advantage to Titan is the consolidated approach to managing orders," Martin said. "The entire process is contained within one system, accessed by any person in the company regardless of their physical location. And everyone is pointing back to that same data source. That same source of truth."
With about 160 full-time employees spread out among four production locations and a corporate office, the conversion to a global information management system made a lot of sense, but it didn't come easy.
Bringing a Little Sanity
"When we first started using in 2005 there was a learning curve, as there is with anything new," Martin said. "People, of course, are hesitant to change. But the first thing it did right away, it brought a little bit of sanity to our office. Once everyone got comfortable with it and figured out where the information was stored, we saw that people were suddenly able to help themselves to that information – rather than waiting for someone to get off the phone so that they could ask the question that only he could answer. Now, people could go in and it's kind of like self-serve, on-demand information. And that's true not only for the office level employee, but it's also true for the managers and executives. They can actually just go into Titan directly and look up this information and get what they want when they want it."
The capability for everybody to track what's happening no matter their location is a key benefit. "Not only can we see it, but it's getting updated live," Martin said. "So, for the most part, it's live information. Again, when there is one version of the truth and everyone is looking to that, it really helps to break down silos, to encourage communication, to make sure everyone is literally on the same page."
Martin cautions that it takes a commitment to bring Titan online, but it's well worth it in the long run.
"The process of converting is daunting. And certainly, it's a big investment," he said. "But once you get over the hump, once you get through that necessary transition, you will ask, 'how did we live without it?' And your employees will say, 'I don't ever want to go back.'"